Nov 5, 2020 10:10 AM Central
Vesta Schneider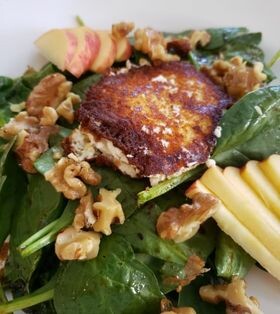 Simple. Delicious. Easy. Healthy.
Kids gobbled up this fried goat cheese spinach salad :) It's a win win in my book!
Warm goat cheese and toasted walnuts melt in your mouth, followed by crunchy spinach and apples. YUM!
Ingredients for the dressing:
Balsamic vinaigrette
1T balsamic vinegar
1T olive oil (more if you want it lighter in vinegar flavor)
1stp Dijon mustard
1tsp honey
Salt and pepper
Whisk or shake all ingredients to combine and set a side
Ingredients:
Baby spinach about 2 handfuls
¼ cup goat cheese
¼ cup panko bread crumbs
1T olive oil
1 small apple cut in slices
½ cup walnuts toasted and chopped
Make a disc with the goat cheese using your hands. Press and form the cheese until it comes together and you can shape. Splash a little water on the cheese so the panko can stick. Press the panko into the cheese so it forms a crust on all sides. Heat the oil in non stick pan and cook the cheese, just until the panko is brown and cheese is a little warm.
Toss the spinach with the vinaigrette, you don't have to use it all, top with the apples, walnuts and fried goat cheese.
Do you like this recipe? You can get them delivered to your inbox ever Thursday
.
Sign up here.